Why Our Guests Rockefeller Lodge
Serene Woodsy Atmosphere
Get a fragrant secluded feeling from the surrounding redwoods, well lit gardens, and quiet neighborhood. Winding brick paths and wisteria-covered arbors invite leisurely, relaxed strolls through the grounds.
Comfortable Capacity
The two acre garden lodge accommodates 150 people total, with capacity for 100 guests inside. Plus, it's all wheelchair accessible.
Bring Your Own Vendors
Our mission is to provide a quality location and provide you with the opportunity to bring any catering, floral, photography, music etc. service that you want.
A Little Piece of Paradise
Nestled in the small town of San Pablo, The Rockefeller Lodge enjoys an extremely colorful history and one Party Time Catering is proud to be a part of. One of its most famous owners was John D. Rockefeller, who acquired the estate shortly before the 1906 earthquake, and turned it into his West Coast Retreat and Hunting Lodge. Today, it has been transformed into our charming garden venue for all types of events.
Learn more about the lodge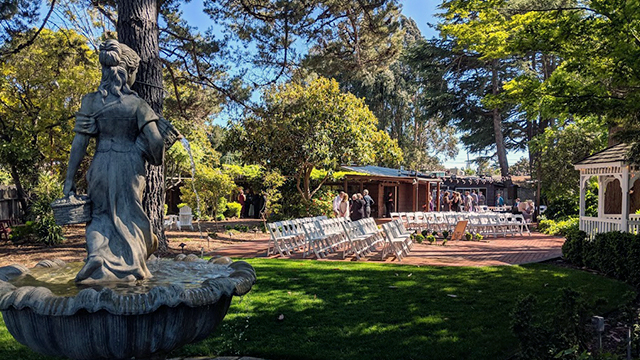 Some of Our Most Popular Events
The lodge can accommodate a wide range of event types.
What our guests are saying
Reviews from Google, Facebook and Yelp

Talk about a total hidden gem! We went to view this place as a potential for our wedding venue and it is best described as stepping into a secret garden. From the moment we stepped into the gate, we fell in love. The grounds are well kept, the building is cozy and intimate.

We got married here on Friday and it was perfect. Debbie was lovely to work with throughout, the food was delicious, the space was beautiful, and the staff the night of the wedding, Devon and Angel, were so professional, attentive, kind, and really on top of everything. We loved them! Thank you Rockefeller Lodge and all involved for a beautiful night - we highly recommend you!

Nice intimate sized hall to rent. The outside is cute for small intimate weddings. There's a kitchen area and small hall to set up and serve buffet food. It had everything we needed to the wedding we attended including a dance area.

My husband and I were married here on October 16, 2015. From start to finish Debbie and Jonathan were nothing but helpful answering all my questions and accommodating all my requests. The food and the staff were exceptional! I wish I could have my wedding all over again!!

This venue completely made our dreams come true. I am beyond grateful to the coordinators and the workers. Deborah is very easy to work with and everything came out perfect for our big day. This place is just like a little oasis in Richmond, never thought something like this existed in my own town! And it was completely affordable and absolutely hassle-free. It was so hassle free that I was able to pull off planning our wedding in 5 months stress free.

Lovely, intimate, beautiful, tranquil, romantic garden setting. Our son and our beautiful daughter in law just got married in August. Thank you Rockafellerlodge staff for making their wedding day memorable.

Great place for a wedding. Beautiful grounds, and the catering provided by the venue was also superb. Had many people tell us afterwards that it was some of the best wedding food they've ever had.

What a Beautiful and wonderful venue for my Daughter Monique Baby shower! Debbie and her staff made us feel like Family They did a great job on making sure we were well taken care of all our needs! The food was delicious and the Venue will speak for itself with Tranquility. Calmness Welcoming Entrance! Thank you Debbie!

I had my wedding here last month, Rockefeller Lodge is a beautiful venue; my ceremony was outside reception inside. The food was amazing, the staff was beyond friendly and my photos came out great in their outdoor setting. I have since recommended this venue to a few people and would consider having another event here in the future. Debbie is awesome and very helpful!!!

I DJ'd a wedding here. It had an awesome staff and bartender, plus the guests loved the scenery! It was very easy to do my job and get the party going. I highly recommend Rockefeller Lodge.

Great place to rent for parties. 100 plus year old hunting lodge in the middle of san pablo. With all the trees it feels like being in the forest.

I love this place. Went here for a wedding just yesterday and it was such a cute outdoor and indoor venue! Ample space outside, half the area where the garden/Secret garden vibes was empty or usually just used for a place to sit and relax and photo-ops of course. I think all the staff were so great. Everyone worked as a team. I remember seeing the bar tender collecting plates and cups then a minute or two later he's back at the bar. The staff is very friendly and always takes seconds to help.
Ready to see the lodge with your own eyes?
Contact us to coordinate a tour of the garden
Request a Tour